Brita Krabacher, DO Internal Medicine Physician
Doctor of Osteopathy (DO) Degree: Rocky Vista University College of Osteopathic Medicine, Parker, Colorado

Residency: Parkview Medical Center, Pueblo, Colorado

Board Certification: American Osteopathic Board of Internal Medicine

Bachelor's Degree: Wheaton College, Wheaton, Illinois

High school: Arapahoe High School, Centennial, Colorado
Brita Nelson was a goalie for her college soccer team when back pain sent her to a physical therapist. While getting treatments, Brita, who was majoring in kinesiology, shared that she was interested in pursuing a medical career. "One of my favorite toys as a child was a doctor kit. I knew early on that I wanted to be a doctor," she says. The physical therapist mentioned that Brita would make a great DO or Doctor of Osteopathic medicine.
Fast forward nine years. In 2012, Brita — now Dr. Krabacher — was a member of the inaugural graduating class at Rocky Vista University College of Osteopathic Medicine in Parker. Today, she provides care at OnPoint Internal Medicine at Ridgeline in Highlands Ranch.
I have a passion to know my patients and their individual needs. I enjoy using my osteopathic background to treat the body as a whole and use evidence-based medicine to help guide treatment. I want to provide the highest quality of health care to my patients.
Often, there's a lot more affecting a patient than whatever initially brought them to us. When I listen, I learn more, and that helps me support and guide patients to better health.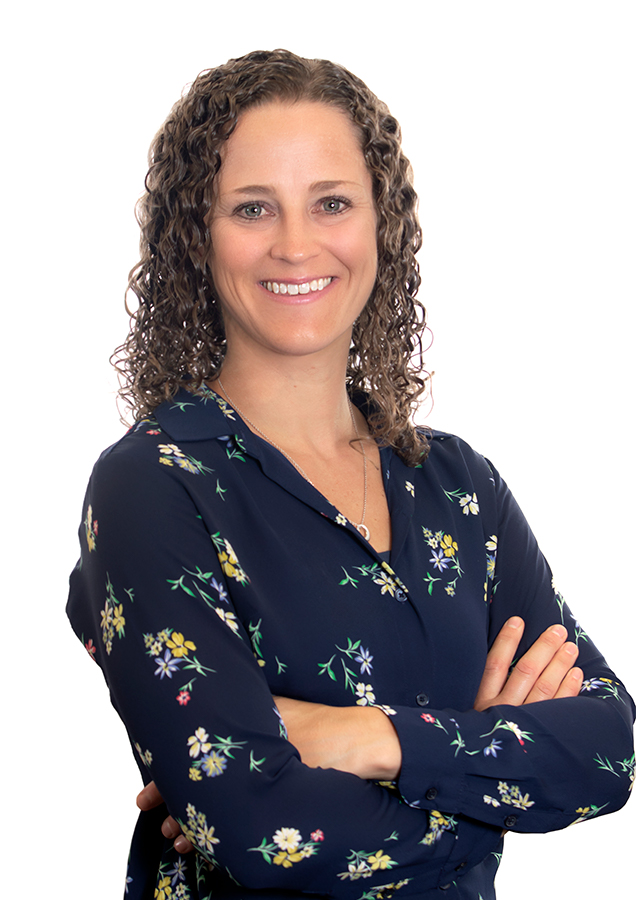 An Interview With Dr. Brita Krabacher, D.O.
Co-Owner of OnPoint Internal Medicine Ridgeline
Q: What attracted you to primary care medicine?
Dr. Krabacher: During my residency at Parkview Medical Center in Pueblo I had an amazing preceptor and mentor, Dr. Carol Venable. She was always challenging her residents. Her passion for her patients was truly inspiring. I discovered that while I enjoyed hospital medicine, what I really wanted was the opportunity to spend more time with my patients and guide them on their wellness journeys. Outpatient medicine was the perfect fit.
Q: What can patients expect when they come to see you?
Dr. Krabacher: Being an internal medicine physician allows me to build trusting relationships with patients. I'm often told that I'm a good listener (I think that comes from being a middle child). I'm very good about asking questions, digging deep and then letting patients fill me in on what's really going on. Often, there's a lot more affecting a patient than whatever initially brought them to me. When I listen, I learn more, and that helps me support and guide patients to better health.
Q: What do you enjoy most about being an internal medicine physician?
Dr. Krabacher: I love the problem-solving aspect that comes with primary care. I don't just prescribe medicines for a health issue. I try to get to the root cause. For instance, why is this patient getting so many headaches or what's causing these lab abnormalities? My patients trust me and expect me to help them through whatever they're dealing with. This might involve medications, but it also might mean helping the patient with dietary and lifestyle changes.
I recognize that making changes isn't easy. I'm a mom to three girls ages 4 to 9. I understand the challenges of trying to maintain a healthy work-life balance, fitting in time for exercise and planning nutritious meals when your children have their own activities, needs and food preferences. I share with patients how I make it work and help them figure out small adjustments they can make that fit with their busy lives.
 Q: What are your specialties?
Dr. Krabacher: A key distinction of being a DO versus an MD is the extra training I have in osteopathic manipulative treatments. The musculoskeletal system is all interconnected, which means an injury or illness to one part of the body often affects another part. You need to treat all parts. Osteopathic manipulation is a gentle technique that engages the body's natural ability to heal. It's on par with what you might expect from physical therapy.
I might use manipulation to help a patient who is experiencing headaches or lower back pain. I work with a lot of athletes, as well as recreational athletes, who need adjustments. As an athlete myself, I understand how certain aches affect performance. Manipulation is also helpful for older patients experiencing joint pain and inflammation.
Q: What are your outside interests?
Dr. Krabacher: My three daughters, Emma, Bryn and Eden, keep my husband and me busy! We like to camp, bike and hike as a family — and of course, kick around a soccer ball. I don't play soccer anymore, but I still make exercise a priority.